Barcelona were inspired by the mesmeric Lionel Messi as they came back from their 2-0 defeat to Milan in the first leg to reach the last eight of the Champions League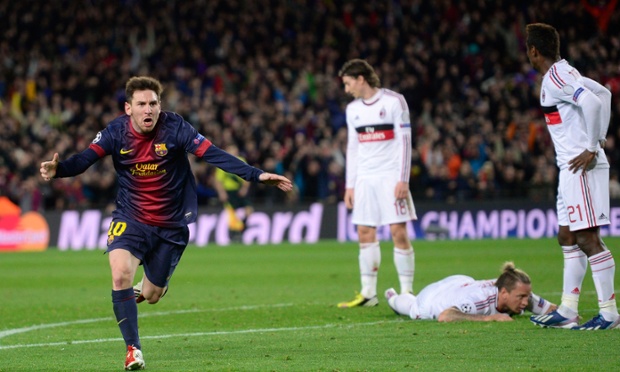 Good evening.
Tonight we come to bury Barcelona, to demand that Lionel Messi hands back his Ballon d'Or and to agree with that infamous Daily Mail headline about Xavi Hernandez. Lose for the fourth time in six matches, lose after losing twice to Real Madrid, lose again to Milan – well, Barcelona will be finished and tiki-taka will be a busted flush. Lose tonight and it will be Barcelona's earliest exit in the Champions League since Liverpool beat them in the last 16 in 2007. In the years since, they have won the tournament twice and have reached the semi-finals on three other occasions. Lose tonight and the feeling of decline will be unmistakable.
Or so the narrative has it and let's be careful not to get too far ahead of ourselves. Sometimes in football it is easy to get too excited, to write sides off and to forget that this is Barcelona, that they have Andres Iniesta, Xavi and Messi, that they are 13 points clear at the top of La Liga. If they do get into their stride and score early, they could do bad things to Milan, unspeakable things, and then we'll be wondering what the fuss was all about. Funny how the machine works.
The problem, mind you, is that they haven't hit their stride for a while. The 2-0 win over Deportivo on Saturday was their first clean sheet they have kept in two months and one goal for Milan would leave Barcelona needing to score four to go through. The way their attack has been playing lately, you wouldn't bet on them pulling that off. Both Real and Milan have made them look predictable, one-paced and overly reliant on Messi, a consequence of the inexplicable fiddling with the midfield of Busquets-Xavi-Iniesta, the failure to improve the front three adequately and, grubby as it feels to mention it, the emotional toll caused by Tito Vilanova's illness. It is unfair to criticise Jordi Roura, doing a job he never asked for in extremely difficult circumstances, but he has appeared unable to make the necessary in-game changes to get Barcelona out of trouble.
Unlike against Chelsea last season, they failed to create a chance of note in the first leg against Milan, although the Italians should of course receive a huge amount of credit for a brilliant gameplan that was implemented perfectly. They did not park the bus but squeezed the middle, forcing Barcelona wide, pressed feverishly and then took their chances with considerable aplomb. Few would have expected this when Milan were struggling in the first half of the season but they are starting to look like a proper side. We'll learn a lot about them in what should be the ultimate test this evening. Sure, they'll have to defend for what will feel like an eternity but they have the forwards to take advantage of any loss of focus in the Barcelona defence, have scored three times in two matches at the Nou Camp and know that Messi has never scored in open play against an Italian side.
Much has been made of Milan's collapses from seemingly impregnable positions - the defeat to Deportivo in 2004, the Miracle of Istanbul, the escapes against PSV Eindhoven and Arsenal - although this Barcelona side are not great at chasing games. History, it would appear, is arguably against both sides - what might be decisive is Barcelona are against Milan. Although it's not entirely clear who that's meant to favour.