The Blaugrana hope flying full-back Dani Alves can convince his friend and Brazil team-mate to make the switch to Camp Nou, despite keen interest from the likes of Bayern Munich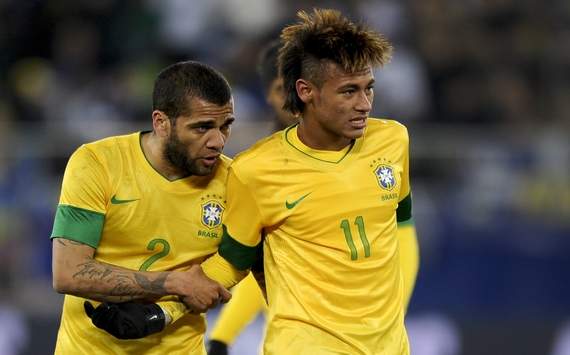 Barcelona have deployed Dani Alves as their secret weapon in the battle to sign Brazil superstar Neymar.

The 20-year-old is the most wanted player in world football and the Catalan club are desperate to fight off competition from Manchester City, Chelsea and Bayern Munich as the race hots up for his signature.

The Blaugrana have already indicated they are willing to pay Santos'

€

60m release clause for their playmaker and have now launched a charm offensive led by Neymar's Brazilian compatriot Dani Alves.

According to Goal.com sources, the relationship between the pair is excellent, to the extent that Neymar treats the Barca right-back "like a big brother" and seriously considers his advice both on and off the pitch.

Alves has made it his personal mission to convince his Seleçao team-mate to join him at club level as well. Goal.com also understands that Alves recently called Neymar to tell him about his fantastic experience as a Barca player and, since then, has not stopped insisting that the team would be unstoppable if the Santos attacker were to join forces with players such as Lionel Messi and Andres Iniesta.

Barcelona's courtship of Neymar has also involved club president Sandro Rosell who, over the last two years, has been trying to convince the mercurial youngster that the Camp Nou environment is best for his development.
Tito Vilanova's side remain in pole position to sign Neymar, but the deal is far from certain.

There is now a strong possibility that the player will run out his contract with Santos, which ends in 2014, as the playmaker's sponsors, who include the Brazilian government and the main Brazilian bank, want him to play at his best in the World Cup.

His backers believe that a move next summer could be a major risk in case he does not adapt quickly to the demands of the European game.

As a consequence, and under Fifa regulations, any club could snatch the player for free as early as January 2014. Given Manchester City, Chelsea and Bayern Munich are also in the market, such a bidding war is a situation that Barca desperately want to avoid.

Neymar has also been quoted as saying that he would be interested in playing for Pep Guardiola when he takes over as Bayern Munich coach.