What better place for the misfit striker than a misfit league, where he could follow in the steps of another Italian cult hero?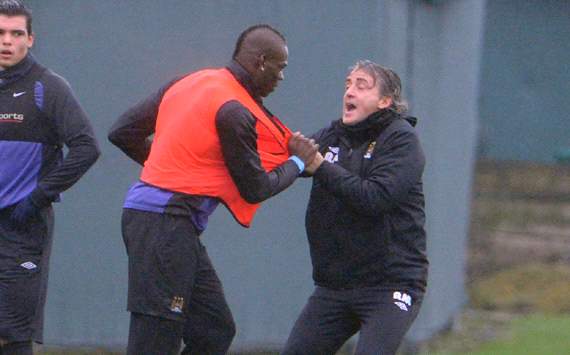 A new year, a new Mario Balotelli incident. It seems, finally, a training ground melee with Roberto Mancini has pushed the Italian manager's patience to the limit.

After two-and-a-half years in Manchester - after the darts incident, after the fireworks, the car crashes, the mafia connections, the visit to a women's prison, after all the confirmed and unconfirmed reports of bizarre behavior, all the antics on and off the field - the Man City boss is finally ready to wash his hands of a player with whom he once seemed to have an almost paternal bond.
The problem is, few clubs are willing to take the gamble on an expensive and potentially disruptive player like Balotelli. The clubs that can afford him, like Real Madrid, Barcelona or Paris Saint-Germain don't necessarily need him. Most of the ones that can use him can't afford the financial risk in the cutthroat world of European soccer.

One solution could solve Manchester City's Balotelli problem, and put Mario in a situation where he can fulfill his potential.

Mario Balotelli should join Major League Soccer. Specifically, the New York Red Bulls.

Only two teams in MLS - the LA Galaxy and the Red Bulls - have shown anything like the kind of ambition and financial muscle that would be needed to prise Balotelli from Manchester. New York, furthermore, has the need to take a risk; after nearly two decades and hundreds of millions of dollars, the northern New Jersey franchise has yet to win a single piece of major silverware.

The benefits to the American parties are obvious. In the 22-year-old Balotelli, who was one of the standout players in Italy's run to the final of Euro 2012, Major League Soccer gets a young, international star that allows it to shed the "retirement league" tag that dogs the acquisition of any player over 30.

New York gets an incredibly talented forward and another marketable name to try and fill that big shiny stadium, this one a draw with the region's sizable Italian-American population.

American soccer gets a new name that could land on the front page as often as the back page, replacing the lost Golden Balls luster of David Beckham with bad-boy Balotelli (fitting in with the league's continually shifting focus from soccer moms to sports fans), but in a way far less intrusive and scrutinizing than the European press hacks that dog Mario's every move.

The racism problems he encountered in Italy and other places in Europe and the constant discussion of his identity as a black Italian would seem ridiculous in an American sports landscape that had its watershed racial integrations more than half a century ago.

It may seem ludicrous, the idea of a star not past him prime abandoning Europe to try his luck in the states, but it's not without precedent. In 1976, another Italian with British ties, Giorgio Chinaglia, made the same move, ditching the glamor of Serie A for the more unconventional milieu of Yankee Stadium. He was 29, just two years removed from winning the Serie A scoring title and representing Italy in the World Cup.

Chinaglia was, like Balotelli, a maverick, a discordantly individual talent prone to arguments with teammates and managers, capable of moments of both footballing brilliance and infuriating ego. He never even disputed the "uncoachable" tag that followed him like a shadow.

"I'm uncoachable, it's true," Chinaglia said in a 1979 profile in Sports Illustrated. "That's because I know more than the stupid coaches. That's, how you say, presumptuous? It's true."

It's remarkably similar to the "unmanageable" assertion Jose Mourinho once leveled at Balotelli.

Chinaglia interfered with team management in Lazio and the Cosmos. He threw the weight of his reputation around, using his own name and popularity like a baton. He once reduced Pele to tears in a locker room argument, bellowing "I am Chinaglia. If I shoot from a place, it's because Chinaglia can score from there," at the three-time World Cup winner.

In spite of the controversy, he was, however, a tremendous talent. In eight seasons with the Cosmos, he won two NASL scoring titles and lead the team to four league championships. He scored in all five Soccer Bowls he played in.

Chinaglia was, in essence, Balotelli's spiritual predecessor. An outsider in Europe, he came to America and was a roaring success by every on-field measure. Off the field, he became a cult figure, revered in a country that usually ignored soccer, where his celebrity and skill largely overshadowed his flaws.

It seems like maybe Mario Balotelli could use some of that.