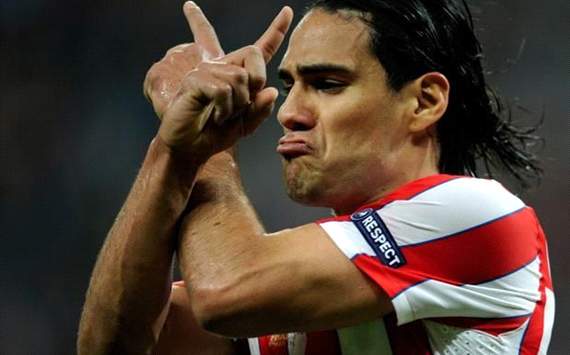 Atletico Madrid striker Radamel Falcao has hinted that he could be interested in a move to Paris Saint-Germain in the future.

The Colombian has led Diego Simeone's side's charge to second place in La Liga, scoring 17 goals in 16 domestic games, and has since been linked with a move to the likes of Chelsea and Real Madrid.
The Atletico Madrid striker has been linked with a host of clubs across Europe, and has confessed that the Ligue 1 giants' ambition has caught his eye

The Parisians, meanwhile, have signed a host of big-name players since the arrival of investors from Qatar, and Falcao admits that he has been impressed with their ambition.

"France is a marvellous country," he told Telefoot.

"I've been there before, and I love it. PSG have a very ambitious sporting project and they've invested a huge amount of money to construct a competitive team.

"That will need time, but that could come very quickly. It's not impossible that I could be meeting you [French journalists] very soon."

One player to have made an immediate impact at the Parc des Princes is Zlatan Ibrahimovic, and Falcao has voiced his admiration for the Swedish striker.

"I've followed Zlatan's path. He's had an incredible career and he has succeeded in every league in which he was played. He is fantastic. He has scored a lot of goals," he continued.

"I like being able to compete with this kind of player. But my main objective is to excel and be even better every day."